Complete Story

03/02/2018
Women in Construction Week!

National Women in Construction week is March 4-10, and we are so pleased to be a voice to women who work in the construction industry. Each day during the week, we will feature a female leader, letting her tell her own story of why this industry is so intoxicating on our Facebook and Twitter pages.
We would like to thank each one of the for sharing their inspiring stories - and showing just how important the roles females play in the industry as a whole.
March 5, 2018: Angela Clark of Design Homes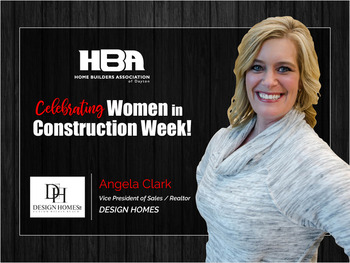 My name is Angela Clark. I have worked at Design Homes and Development Co., Inc. for 12 years. In my current role as Vice President of Sales/Realtor, my responsibilities include: meeting with prospective clients, assist in designing their home, working side by side with our estimator and project coordinator, work with lenders and title companies to ensure a successful closing, and I also will list and sell their current home so they can live in their new Design Home. I also list and sell homes of sellers not purchasing a Design Home, and represent buyers looking for an existing home.
One would think that being a woman in the home building industry would come with challenges, and that is certainly true. Fortunately, from the start of my career, I have had received nothing but respect and support from all the subcontractors and suppliers, and they have all been incredibly helpful and resourceful as I continue to learn about building, every day!
I love what I do because who doesn't love helping people make their dreams become reality? I absolutely love knowing that I am great at what I do, and love that people know they can trust me.
March 6, 2018: Molly Dullea of Clemens Companies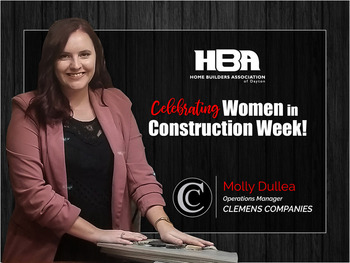 My name is Molly Dullea and I am the Operations Manager for Clemens Companies. Clemens Companies is a family owned and operated company situated in Beavercreek.
For the past 3 ½ years, I have had the privilege of assisting many clients with their home selections. For some, this can be a stressful time - but I have learned that being patient and engaging in meaningful communication is the recipe for a smooth and happy build process. During the times when I am not working one-on-one with a homeowner, I manage the marketing efforts (including maintaining our web presence, keeping our Houzz profile fresh and exciting, listing homes on Zillow, curating interesting content/imagery for Facebook and Instagram, inspiring on Pinterest and staying relevant with Google Plus).
Being a female in the building industry can bring challenges, but I am very fortunate that I work alongside family members who value my opinion. Our customers and subcontractors are all very respectful. There have been a few occasions that I felt undermined when people would ask the Project Manager something that I've previously discussed with them. Now, I just brush it off because I know he will give them the same answer as I.
I love that my day-to-day is always different. I'm not always in the office - some days I am out looking for new products, meeting with customers, and coming up with design ideas. Even when I try to plan my day, it often changes so I just go with the flow of what needs done and where I'm needed that day.
Learn more about Clemens Companies
March 7, 2018: Gina Coates of Coates Custom Homes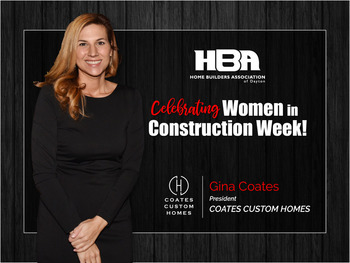 My brother and I are second generation owners. My father starting building homes in Dayton in 1968, so I grew up in the industry. I spent some time in Chicago working for other developers, but ultimately, family brought me home to Ohio. I think Dayton is a great town to raise a family and we are thrilled that we can help someone achieve their vision of their dream home.
We are truly family owned and operated, so we handle all elements of construction from sitting down with the architect to picking out pulls for your cabinets. I enjoy the design side of things the most. It's fun to get to work with people who have different design aesthetics.
I love being a female in this industry. I think women have a natural eye for detail that certainly helps in all aspects of construction. We are lucky enough to work with an amazing group of subcontractors who view me as an equal. You are only as good as the people you are working with. As with everything in life, it takes a village, and I think we have the best one in town!
Learn more about Coates Custom Homes
March 8, 2018: Connie Zengel of Zengel Group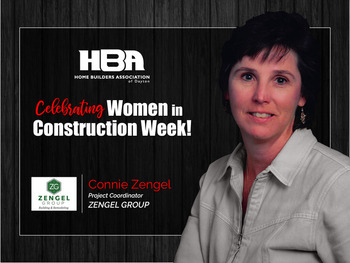 Hello, my name is Connie Zengel. My husband and I operate Zengel Group Building and Remodeling. In 2012, Jim decided to branch out from his family's custom home building business and start a remodeling company. I started part-time doing the accounting. In 2014, I joined the company fulltime as the bookkeeper, director of marketing and human resources plus whatever else needed to be done in the office that did not require knowledge of construction. Despite many of our friends and family's reservation about the two of us working together, our company and marriage have thrived!
Bookkeeping is still a big part of my job, but I am also the first point of contact for new clients. I maintain communication with prospects as well as update our website, Houzz profile and work with my daughter posting to our blog and facebook page. I love my job and boss! It is exciting to build a business; constantly learning new things and meeting new people.
Learn more about Zengel Group
March 9, 2018: Courtney Schneider of CountyCorp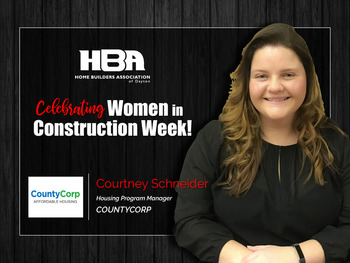 Hello, my name is Courtney Schneider. I started working for County Corp in the nonprofit affordable housing arena after I graduated from Wright State University with my Bachelor's degree. I chanced into a part-time intern position marketing the company's Neighborhood Stabilization Program. Since then, I've been with the company for almost 7 years. These days, I manage a few of our affordable housing programs that focus on the rehab and resale of single-family housing to first-time home buyers. I have found a great passion for providing such an opportunity to those who are in need. It puts a smile on my face every single day.
Like any job, there are certainly some challenges. Working in affordable housing may mean that we are doing amazing things in some not so great neighborhoods. Sometimes it can be difficult to find the appeal in a less desirable neighborhood, but I have learned that the right buyer will eventually come along. In addition to that, it is always a challenge to make people understand what affordable housing is and what it provides for the neighborhoods and families located near our homes. I think there is a lot of negative perception about the concept of affordable housing and what County Corp does. It's not about giving houses away to people. It's about providing the opportunity for people to purchase an affordable and
low-maintenance first home. There is a real need for affordable housing and a lot of people don't understand that. Some of our buyers have rented for years, paying close to 50% of their income in rent. I hope that I am helping people realize that homeownership can become a reality.
Learn more about County Corp